ENCHANTED BALI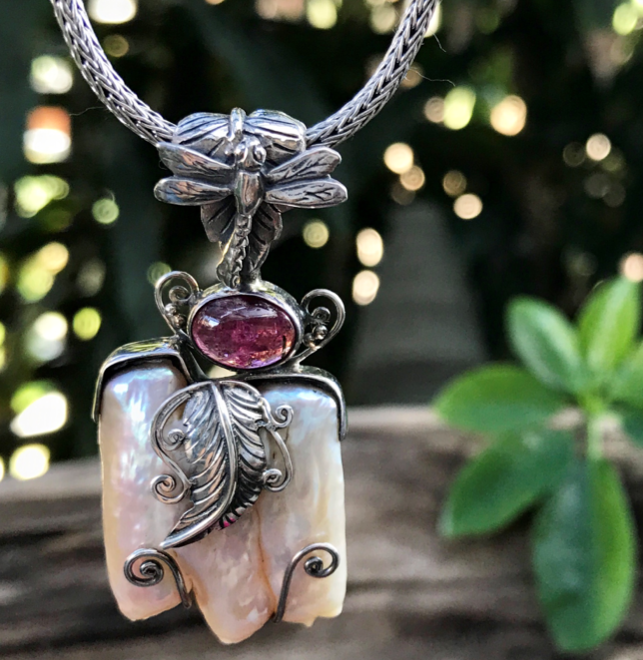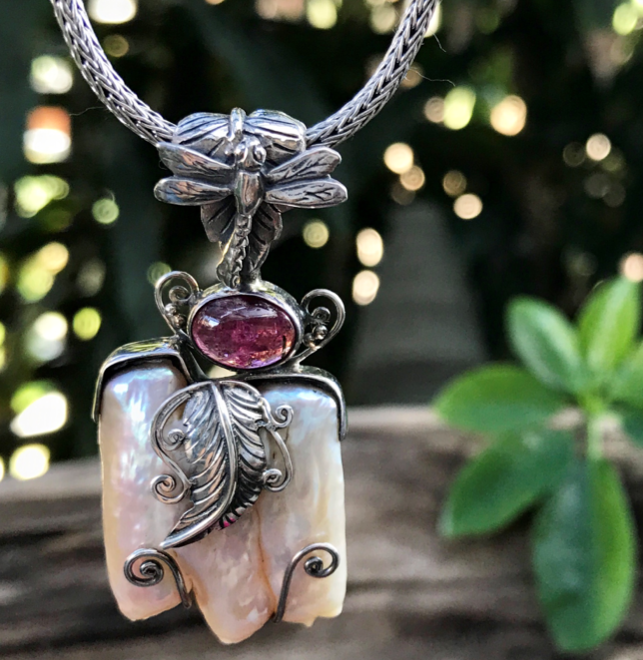 sold out
ENCHANTED BALI
Freshwater pearl enhanced by a beautiful Tourmaline gem, set in Sterling silver with a Dragonfly on the bale. (chain not included)
Size approx. 2" x 1".
PEARLS symbolize wisdom acquired through experience. They are believed to attract wealth and luck as well as offer protection. Known for their calming effect, pearls can balance one's karma, strengthen relationships, and keep children safe. The pearl is also said to symbolize the purity, generosity, integrity, and loyalty of its wearer.
TOURMALINE gemstone meaning is often associated with physical and spiritual energy. It believed to help keep up fitness, improve health, bring good luck, calm the heart and mind were troubled, and bring creativity to the owner.
The healing properties of Tourmaline used to prevent occurrence of lymphatic tissue disease and anemia. Helps the body resist radiation from mobile phones and helps blood circulation
DRAGONFLY: Not only does the dragonfly symbolize change in life, it specifically represents a change in perspective and a shift toward self-realization.
Maturity: Change is rarely easy. Because of this, the ability to be open to it and accept it requires maturity. Dragonflies symbolize this maturity as well as our ability to see the deeper meaning of life.
Poise: Dragonflies move easily in all six directions. If you've watched them, you've become aware of their grace and poise. Two qualities that come with the acceptance of change and maturity. With roughly 20 times more power in each flap of its wings, it isn't a clunky or heavy insect. It remains elegant in its strength.
Other symbols of the dragonfly:
Adaptability

Joy and lightness

Emotional depth

The invitation to go deeper

A connection to spirit beings

Wisdom